Welcome
In Middle-earth: Shadow of Mordor, you take on the role of Talion, a valiant ranger whose family is slain the night Sauron and his army return to Mordor, moments before his own life is taken. Resurrected by a spirit of vengeance and empowered with Wraith abilities, Talion ventures into Mordor and vows to destroy those who have wronged him. Through the course of Talion's personal vendetta, you will uncover the truth of the spirit that compels you, learn the origins of the Rings of Power and ultimately confront your true nemesis. Shadow of Mordor is available now.

If you're looking for help with the game, our walkthrough content and Palantir app can help you defeat Sauron and his army.
Mordor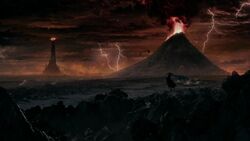 Mordor is the region of Middle-earth in which Middle-earth: Shadow of Mordor takes place. It is the home kingdom of Sauron, situated in southeastern Middle-earth and east of Gondor, Ithilien and the great river. Mordor was chosen to be Sauron's fortress because of the mountain ranges surrounding it on three sides, creating a natural fortress against his enemies. Much of the land was a volcanic waste due to the activity of Mount Doom, but some could be cultivated and the Dark Lord's slaves raised food for his armies here as well.

Mordor is protected by three mountain ranges on all sides. The Ash Mountains lie in the north and the Mountains of Shadow in the west and south. The only viable large entryway into Mordor lies in the north-west corner of Mordor: the deep valley of Udûn protected by the Black Gate of Mordor. Sauron's Dark Tower, the fortress of Barad-dûr, was located at the foothill of the Ash Mountains.
Read more >
Inhabitants
Voice of the Community
Create blog post

We've been keeping a close eye on you. And, as humble members of your conversation, we're compelled to join in whenever we can. That's why this week, our Twitch stream will focus in on the road to War alongside one of our fearless leaders.

To kick thin…

Read more >

Friends, Rangers, and Uruk sympathizers,

The time has finally arrived. The second-coming of the award-winning Nemesis System is well on its way - and gameplay has officially been revealed!

But, we've known you for a while. We're sure you're going to w…

Read more >
See more >
Forum
Graug Removed in Xbox 360 version?
created by A Fandom user 16 hours ago

| | |
| --- | --- |
| | I was searching for graugs 50 hours, when I read about it. PS3 and XBOX360 edition of SoM are stupid without GRAUGS :(  |
| | I SPENT FOUR DAYS LOOKING FOR GRAUGS AND WATCHED A TOTAL OF 48 VIDEOS!? I FOUND ABSOLUTELY NOTHING!!! THEN THEY DON'T EXIST, NOW I HAVE...  |

Game won't run on PS4
created by A Fandom user 1 day ago

| | |
| --- | --- |
| | My game gets to the main menu.... then i just see a loading screen. It says the game is taking a little longer to load. Please wait....  |
| | I have two ps4s but my game does this on one but does not do it on my other ps4  |

Your URUK NAME
created by A Fandom user 1 day ago

| | |
| --- | --- |
| | My immortal nemesis the child of prak jaws and feldush giggles feldush jaws with prak's mask and feldush's weapon currently he&#03...  |
| | RATBAG THE COWARD! What, he was my nemesis for the Tower fight...  |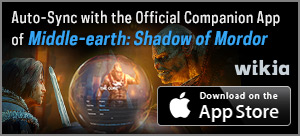 0
Middle-earth: Shadow of Mordor Wikia
Join the Chat>
News from Middle-earth
Cast Your Vote
Screenshots
Ad blocker interference detected!
Wikia is a free-to-use site that makes money from advertising. We have a modified experience for viewers using ad blockers

Wikia is not accessible if you've made further modifications. Remove the custom ad blocker rule(s) and the page will load as expected.