Home
Talk

10
140pages on
this wiki
Welcome
Mordor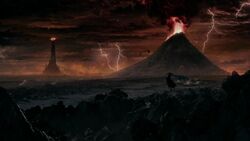 Mordor is the region of Middle-earth in which Middle-earth: Shadow of Mordor takes place. It is the home kingdom of Sauron, situated in southeastern Middle-earth and east of Gondor, Ithilien and the great river. Mordor was chosen to be Sauron's fortress because of the mountain ranges surrounding it on three sides, creating a natural fortress against his enemies. Much of the land was a volcanic waste due to the activity of Mount Doom, but some could be cultivated and the Dark Lord's slaves raised food for his armies here as well.




Mordor is protected by three mountain ranges on all sides. The Ash Mountains lie in the north and the Mountains of Shadow in the west and south. The only viable large entryway into Mordor lies in the north-west corner of Mordor: the deep valley of Udûn protected by the Black Gate of Mordor. Sauron's Dark Tower, the fortress of Barad-dûr, was located at the foothill of the Ash Mountains.
Read more >
Inhabitants
Voice of the Community
Create blog post
The fight that Celebrimbor and Talion now share is one of great significance. Together they'll work against Sauron's forces to try and build an army of their own, and bend Mordor to their will.

Take a look at the latest gameplay trailer for Shadow o…

Read more >

Hi folks,

With the release of the newest trailer; The Bright Lord, we're asking the community to help out with adding some intriguing facts. If you are unclear about what a Fannotation video is, click here to check it out!

If you're interested in helpi…

Read more >
See more >
Forum
Speculation regarding the identity of the wraith Talion is connected to
created by A Wikia contributor 2 hours ago
Shadow of Mordor's final boss
created by The.Outsider 6 hours ago

| | |
| --- | --- |
| | 92.229.246.65 wrote:On the whole  "beating Sauron so he becomes the Eye": Sauron never, NEVER was a glowing eye atop a tower. This descript...  |
| | Isn't Gil-Galad in the extended version of Fellowship? I haven't got it in the post yet so I'm not sure.  |

Android version of Palantir
created by A Wikia contributor 8 hours ago

A Wikia contributor 68.113.83.89

They may release an android app but it wont be till your well finished with the game.....The Batman Arkham origins game that unlocked cert... 
News From Middle-earth
Cast Your Vote
Screenshots
Legal Info
MIDDLE-EARTH: SHADOW OF MORDOR © 2013 Warner Bros. Entertainment Inc. Developed by Monolith. In association with WingNut Films. © 2013 New Line Productions, Inc. © The Saul Zaentz Company. MIDDLE-EARTH: SHADOW OF MORDOR, THE HOBBIT, and the names of the characters, items, events and places therein are trademarks of The Saul Zaentz Company d/b/a Middle-earth Enterprises under license to Warner Bros. Interactive Entertainment. All other trademarks and copyrights are the property of their respective owners. All rights reserved.

MONOLITH LOGO, WB GAMES LOGO, WB SHIELD: ™ & © Warner Bros. Entertainment Inc. (s13)