Welcome
In Middle-earth: Shadow of Mordor, you take on the role of Talion, a valiant ranger whose family is slain the night Sauron and his army return to Mordor, moments before his own life is taken. Resurrected by a spirit of vengeance and empowered with Wraith abilities, Talion ventures into Mordor and vows to destroy those who have wronged him. Through the course of Talion's personal vendetta, you will uncover the truth of the spirit that compels you, learn the origins of the Rings of Power and ultimately confront your true nemesis. Shadow of Mordor is available now.

If you're looking for help with the game, our walkthrough content and Palantir app can help you defeat Sauron and his army.
Mordor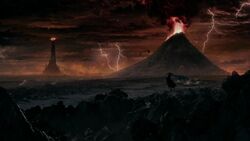 Mordor is the region of Middle-earth in which Middle-earth: Shadow of Mordor takes place. It is the home kingdom of Sauron, situated in southeastern Middle-earth and east of Gondor, Ithilien and the great river. Mordor was chosen to be Sauron's fortress because of the mountain ranges surrounding it on three sides, creating a natural fortress against his enemies. Much of the land was a volcanic waste due to the activity of Mount Doom, but some could be cultivated and the Dark Lord's slaves raised food for his armies here as well.

Mordor is protected by three mountain ranges on all sides. The Ash Mountains lie in the north and the Mountains of Shadow in the west and south. The only viable large entryway into Mordor lies in the north-west corner of Mordor: the deep valley of Udûn protected by the Black Gate of Mordor. Sauron's Dark Tower, the fortress of Barad-dûr, was located at the foothill of the Ash Mountains.
Read more >
Inhabitants
Voice of the Community
Create blog post

Shadow of Mordor's Director of Design, Michael de Plater, alongside Monolith Community Manager Andrew Salisbury, recently sat down to chat with GlóinTheGreat and TolkienIsTruth7, addressing a number of interesting questions about the development of…


Read more >




The Bright Lord DLC - Fannotation Trailer!

Greetings Uruks, Elves and Men! With the community's help, we have put together an awesome fannotation video to get you hyped for the fresh release of the latest SoM DLC; The Bright Lord. If you haven't hear…

Read more >
See more >
Forum
Looking for Vendettas (PSN)
created by A Wikia contributor 5 days ago
Controling the Nemesis System. Getting Captains to respawn more specificaly.
created by Siul S-249 5 days ago

| | |
| --- | --- |
| | Hello, Wikia users.I would like to inform everyone here that a while back I managed to figure out how to control which, when and where Capta...  |

Game crashed while loading, now my safe game is gone (Xbox 360). What is going on?
created by A Wikia contributor 5 days ago

A Wikia contributor 95.90.228.117

Hi there, I hope there is someone here that can help me somehow.As I was implying in the title I was playing Shadow of Mordor on Xbox 360 and ...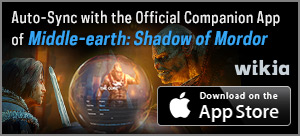 0
Middle-earth: Shadow of Mordor Wikia
Join the Chat>
News from Middle-earth
Cast Your Vote
Screenshots
Legal Info
MIDDLE-EARTH: SHADOW OF MORDOR © 2013 Warner Bros. Entertainment Inc. Developed by Monolith. In association with WingNut Films. © 2013 New Line Productions, Inc. © The Saul Zaentz Company. MIDDLE-EARTH: SHADOW OF MORDOR, THE HOBBIT, and the names of the characters, items, events and places therein are trademarks of The Saul Zaentz Company d/b/a Middle-earth Enterprises under license to Warner Bros. Interactive Entertainment. All other trademarks and copyrights are the property of their respective owners. All rights reserved.

MONOLITH LOGO, WB GAMES LOGO, WB SHIELD: ™ & © Warner Bros. Entertainment Inc. (s13)